Event Keynote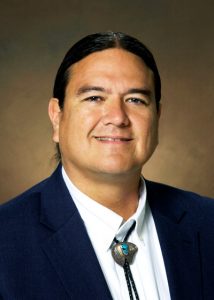 Lakota and Public Health Perspectives on Elder Abuse Prevention
Donald K. Warne, MD, MPH is the chair of the Department of Public Health at North Dakota State University, and he serves as the Senior Policy Advisor to the Great Plains Tribal Chairmen's Health Board. In addition, he is an adjunct clinical professor at the Arizona State University Sandra Day O'Connor College of Law where he taught American Indian Health Policy. Dr. Warne is a member of the Oglala Lakota tribe from Pine Ridge, South Dakota and comes from a long line of traditional healers and medicine men. He received his MD from Stanford University in 1995 and his Master of Public Health from Harvard University as a Commonwealth Fund/Harvard University Fellow in Minority Health Policy in 2002. Dr. Warne is a Certified Diabetes Educator (CDE), and he is a Diplomate of both the American Board of Family Practice and the American Board of Medical Acupuncture. In addition to Minority Health Policy, he completed a Fellowship in Alternative Medicine from the Arizona Center for Health and Medicine.
Donald Warne's work experience includes several years as a primary care and integrative medicine physician with the Gila River Health Care Corporation in Sacaton, AZ, and three years as a Staff Clinician with the National Institutes of Health in Phoenix where he conducted diabetes research and developed diabetes education and prevention programs in partnership with tribes.
Dr Warne's professional activities have included:
Member, National Board of Trustees, March of Dimes (2016-current)
Member, Health Disparities Subcommittee, Centers for Disease Control and Prevention (2015-current)
Member, National Advisory Committee for Rural Health and Human Services, DHHS (2015-current)
Member, Minority Affairs Section, American Medical Association (2014-2017)
Member, National Board of Directors, American Cancer Society (2011-2014)
Executive Director, Great Plains Tribal Chairmen's Health Board (2008-2010)
Senior Fellow, American Indian Health Policy, Robert Wood Johnson Foundation Center for Health Policy, University of New Mexico (2009)
Health Policy Research Director, Inter Tribal Council of Arizona (2006-2008)
President of the Board, Native American Community Health Center, Inc in Phoenix (2004-2007)
Member, Association of American Indian Physicians
His awards include: 1997 Walter Brazie, MD Award as Arizona's Outstanding Family Practice Resident from Arizona Academy of Family Physicians; 1999 and 2001 Plain Language Awards in Community Health Education from National Institutes of Health; 2002 Dr Fang Ching Sun Memorial Award for Commitment to Underserved Communities from Harvard School of Public Health; 2004 Phoenix Area Impact Award form National Indian Health Board; 2007 Healthcare Hero Finalist from the Phoenix Business Journal; 2008 Josiah N. Moore ASU Native American Alumnus of the Year; and the Mary J Berg Professor of Women's Health at NDSU; 2016 Induction to Stanford University Alumni Hall of Fame
Breakout Sessions
Investigation and Prosecution of Financial Exploitation and Undue Influence
Financial exploitation is becoming an increasingly familiar problem. Older individuals may be targeted merely because they possess more assets. Those with cognitive impairments, mental health conditions, or physical disabilities may be dependent upon others for assistance in making financial decisions or carrying out daily transactions, and therefore may be even more vulnerable to theft, exploitation or undue influence. Learn investigative techniques specific to financial exploitation cases, common warning signs, charging, trial and sentencing considerations.
Presenters: Carolyn Ham, Inspector General; Jennifer (JJ) Hasbargen, Minnesota Department of Human Services, Surveillance and Integrity Review, Office of the Inspector General
---
Theft by Swindle
Join the prosecutor of State v. Robert Lee Thompson as she reviews the case from investigation to evidence, the plea agreement, and to the final sentence.
Presenters: Kelsey R. Kelley, Assistant Anoka County Attorney; Laura Ostrom, a Wictim Witness Services Specialist, Anoka County
---
Honoring our Elders: Adult Protection from a Tribal Nation Perspective
1. This panel presentation will focus on the current Tribal Nation initiatives to provide protection and appropriate services for their elders.
2. Tribal staff will share what is needed in order to build successful Tribal/County partnerships to ensure coordination and care for Tribal elders.
Presenters: 
Cheri Goodwin, Executive Director of Family and Children Services, Red Lake Nation; Earl Robinson, Human Services Director, Leech Lake Band of Ojibwe; Janelle Hale, Home Health Services Coordinator, Fond du Lac Human Services
---
Racial Disparities in Quality of Life for Long-Term Care Residents: Key Findings and Policy Implications
Tetyana Shippee, PhD, is an Associate Professor in Health Policy Management, University of Minnesota and a social gerontologist whose vision is to improve quality of life and quality of care for older adults. As part of her research, she spent two years living in a long-term care facility.
Presenters: Tetyana Shippee, PhD, Associate Professor in Health Policy Management, University of Minnesota
---
Solo Seniors
This presentation will explore tools and strategies that could be of use to older adults who are aging without a traditional support system ("Solos"). The conversation will address safeguards against abuse and exploitation inherent in our current supportive and substitute decision making structures, as well as discuss demographic and service trends that make this a particularly urgent issue.
Presenters: Linda Camp, Consultant, Turning Point Consulting; Marit Peterson, JD, Program Director, Minnesota Elder Justice Center
---
Victim Services
The Minnesota Elder Justice Center provides direct victim services to victims of abuse, and to their friends, family, and support networks.  During this session, MEJC's Victim Services Coordinator will walk the audience through a victim-centered approach to understanding abuse of elders and vulnerable adults, including cultural and reporting barriers to assistance.  The conversation will address responses to abuse, focusing on systems navigation and advocacy strategies for creating an environment of change.
Presenters: Christine Courtney, JD, Victim Services Coordinator, Minnesota Elder Justice Center
---
When Grandpa Hits Grandma:  Redefining Our View of Domestic Violence
Generally, our society views domestic violence as a crime occurring to younger adults in intimate partner relationships; however, domestic violence is also perpetrated on and by older adults.  This presentation will look at ways to identify cases of domestic violence in later life, explain how these cases differ from abuse between younger adults, provide information on the polyvictimization that occurs within these relationships, identify unique barriers older adults face when reporting and discuss techniques for assisting older adult victims.
Presenters: Shelly Carlson, MPP, Criminal Justice Systems Manager, Minnesota Elder Justice Center
---
Minnesota Legislative Update
This panel will explore the dynamics of this past legislative session with perspectives from a range of stakeholders. Join us for a panel discussion with participants who play an active role in policy development on behalf of their own agencies and organizations as they examine past accomplishments and future policy goals.
Moderator: Sean Burke, JD, Public Policy Director, Minnesota Elder Justice Center; Panel, TBD
---
MN2030 Looking Forward:  Reimagine the Future of Aging
This session you will:
Understand the components of the Minnesota Board on Aging (MBA) and the Minnesota Department of Human Services (DHS) strategic plan, MN2030 Looking Forward.
Understand how the MBA and DHS are partnering with the Minnesota Elder Justice Center to prioritize strategies to support the development of the Elder Justice Roadmap
Learn how you can be a part of addressing ageism and preparing for 2030.
Presenters: TBD, Minnesota Board on Aging
---
How Does Adult Protection Protect?
1. Review statutory duties of adult protective services to safeguard the welfare of vulnerable adults, offer services and prevent repeat maltreatment;
2. Understand how the National Adult Protective Services (NAPSA) code of ethics impacts work with vulnerable adults;
3. Describe the standardized tools adult protective services uses to carry out duties;
4. Learn about the process Adult Protective Services uses to engage vulnerable adults and primary support persons in safety planning;
5. List 5 Interventions used by adult protective services in working with vulnerable adults and support persons
Presenters: Kelli Klein, Adult Protection Resource Specialist, Aging/Adult Services Adult Protection; Melissa Vongsy, LSW, Adult Protection Resource Specialist, Aging/Adult Services Adult Protection
---
Does Elder Abuse Count? A Look at Hospital Discharge Data
This session will look at elder abuse cases identified in Minnesota hospital discharge data, including temporal trends and patient characteristics.
Presenters: Jon Roesler, MS, Injury Epidemiologist Supervisor, Minnesota Department of Health and Anna Gaichas, MS, Research Analyst and Statistician, Minnesota Department of Health
---
The Golden Years – Diseases of Despair: Opioids, Alcohol and Other Drugs
In 2015, Princeton economists Angus Deaton and Anne Case described the "deaths of despair" including overdose from alcohol and drugs, alcohol related liver disease, and suicide. This presentation will look at these deaths in Minnesota's elder population.
Presenters: Jon Roesler, MS, Injury Epidemiologist Supervisor, Minnesota Department of Health and Kari Gloppen, PhD, MPH, Research Scientist, Minnesota Department of Health
---
A View From Inside: Experiencing Family Financial Exploitation
Gain insight into how family members, other than the direct victim and the perpetrator, experience financial exploitation of an elder parent by someone in their own family. Findings from a recent study of 28 family members (primarily adult children), contribute needed perspectives to help inform prevention and intervention strategies.
Presenters: Marlene Stum, Ph.D, Professor, Family Economics & Gerontology, Family Social Science, University of Minnesota
---
Leading Age –  Abuse and Maltreatment Prevention Task Force Discussion
Reducing elder abuse, neglect and exploitation requires an array of interventions.  It is important to report maltreatment when it occurs, investigate cases thoroughly, and hold perpetrators accountable, but it is also essential to work on preventing abuse, neglect and exploitation before they happen.  In this session, LeadingAge Minnesota will describe work being done by its Abuse and Maltreatment Prevention Task Force has done to analyze maltreatment findings and identify potential prevention strategies.
Presenters: Julie Apold, Vice President of Quality and Performance Excellence; and Jonathan Lips, Vice President of Legal and Regulatory Affairs, LeadingAge Minnesota