OUR SERVICES > Public Policy
We advocate at the federal, state and local level for comprehensive changes that reduce abuse, neglect and financial exploitation of older and vulnerable adults.
To engage with us on public policy efforts, please contact us.
---
2023 Policy Priorities for Minnesota Elder Justice Center
(Updated Nov. 2022)
1) Vulnerable Adult Act (VAA)/Adult Protection (APS) Redesign:  Support a funding package that will transform the APS system to meet certain outcomes and benchmarks related to their APS programs.
MEJC Goals: Reduce disparities in and increase numbers of vulnerable adults receiving investigation and services from APS. Increase state funding and investment to county adult protection programs to help increase equity throughout the entire APS system.
2) Supported Decision Making Investments: In 2020 we worked with a coalition of stakeholders to pass a bill that helped significantly modernize Minnesota's guardianship and conservatorship laws.  That bill was only policy however, and did not include funding for Supported Decision Making (SDM).  SDM is considered the most promising practice that provides an alternative to guardianship.  To this date, the State has not invested any dedicated resources to promoting, improving, developing, or otherwise supporting SDM statewide.  In addition, certain outstanding policy issues about guardianship still remain – including the question of how much liability a guardian should face for civil negligence claims.
MEJC Goals: Increase programs and practices that help older and vulnerable adults find alternative decision-making mechanisms that balance autonomy and safety. Help develop common balanced solutions to thorny policy issues such as guardianship liability.
3) Assisted Living Licensing: The 2019 bill that established Assisted Living Licensing will be subject to, at the least, an MDH technical bill that could include proposed changes by provider organizations and consumer organizations, including MEJC.
MEJC Goals: Protect consumer rights and protections of consumers in Assisted Living settings, especially those in publicly funded settings that offer long term care services that serve majority BIPOC communities.
Other Potential Legislative Issues
4) Caregiver Resources (paid-family leave, long term care social insurance, etc.); Reimbursement Levels for Long Term Care Workers; Elderly Waiver changes/enhancement, and (Federal) Elder Justice Act
MEJC Goals: Monitor any bills and any coalition work on these issues. Support changes that will improve protection and services to older adults or vulnerable adults.
Monitor Only (Budgets and Issues That Have Surfaced in the Past)
5) Agency Budgets and Funding: In a budget year with a significant surplus, a variety of agencies will be proposing bills and programs that may impact older and vulnerable adults.  This could include a proposal to look at creating a new Department of Aging.
MEJC Goals: Monitor legislation that may impact older or vulnerable victims of abuse, neglect and financial exploitation.
---
Success in 2019!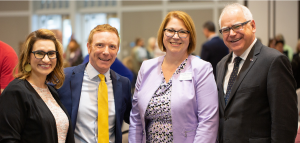 For over two years, the Minnesota Elder Justice Center collaborated with a variety of stakeholders to develop this comprehensive system of assisted living licensing and resident protections.  Along with other organizations, MEJC helped craft consensus legislation known as the 2019 Eldercare and Vulnerable Adult Act (Minn. Stat. 144G) that will expand the rights of residents and their families.
Among many new resident safeguards, the law will ensure:
Residents of assisted living settings have protections against unfair discharges and evictions;
Residents of nursing homes and assisted living settings will be protected from retaliation;
Residents of nursing homes and assisted living settings will have the right to install a camera in their own rooms to monitor care; and
Assisted living settings must be licensed by 2021 under new requirements, which include stricter training and staffing standards, physical plant requirements, and dementia care standards.
The new law also makes investments in critical programs such as the long-term care ombudsman's office and county-based adult protection units, for which MEJC staff advocated at the Capitol.