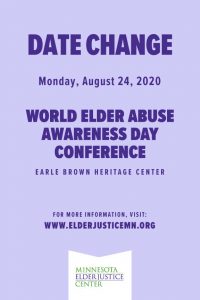 The 2020 Minnesota World Elder Abuse Awareness Day Conference will be held on August 24, 2020 at Earle Brown Heritage Center in Brooklyn Park, MN. Each year the conference brings together 400 professionals working in fields with older or vulnerable adults.
This years conference will feature keynote speaker Louise Aronson,  geriatrician and Professor of Medicine at the University of California, San Francisco and author of the best selling book, Elderhood.
The 2020 conference breakout session request for proposals is now open! Please view the RFP form for full details and directions.  The 2020 conference will feature a Criminal Justice specific track along with Beginner, Intermediate and Advanced content tracks.  The proposal deadline is February 14th, 2020.
Sponsorship opportunities are now available.
Individual and exhibitor registration will begin on Monday, March 2nd. Stay tuned for more information!